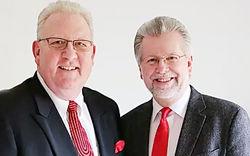 The Barron Chamber of Commerce has announced its first Music in the Park entertainment, which will be held this Wednesday, June 24, beginning at 6 p.m. at Anderson Park in Barron with a performance by The Memories.
Bring your own lawn chair, food and beverage, sit back, kick up your feet and enjoy an evening of great music and entertainment.
Shows will continue throughout the summer on the second and fourth Wednesday of each month. If rain is in the forecast, the show will be moved to the indoor ice arena.
For more than 40 years The Memories have entertained audiences across the country. With their unique harmonies and great songs, this Wisconsin-based duo is made up of Warren Petryk and Tim Stevens.
Performing at fairs and festivals, community concerts and company and corporate events, The Memories continue to deliver a show that has been described as "Music, Laughter, and Wonderful Times."
"Warren Petryk and Tim Stevens have been performing music together since their grade school years. Between their junior and senior years of high school they formed a dance band along with another classmate called "The Pickle Dillies." 2012 marked the 40th Anniversary of "The Memories."
Career highlights include:
Induction into the Wisconsin Association of Fairs "Hall of Fame" in 1995.
Winning first place in the state-wide "Country Band of the Year" Contest in 1983.
Being named "Polka Band of the Year in Indianhead Country" in 1977.
And…one of their proudest moments….taking second place in the 1971 Boyceville Cucumber Festival's Talent Contest…and receiving a cash prize of $10.00.
Please get ready to have some fun with Tim and Warren…The Memories!"