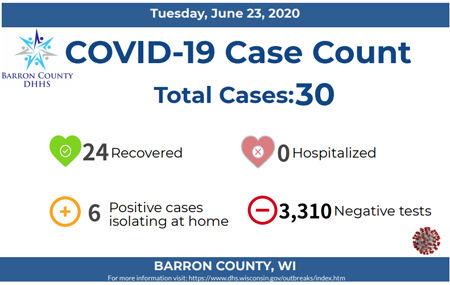 Barron County recorded its 26th through 30th cases of COVID-19 during the seven-day period that ended Tuesday, June 23, 2020, according to information from the Barron County Department of Health and Human Services.
Three new cases were reported Thursday, June 18, and one additional case was reported the next day. Each of the new cases were reportedly in close contact with a positive case and all four people were "isolating at home," County Health Officer Laura Sauve reported on the DHHS Facebook page.
The case total held steady at 30 through the weekend and up until the daily reporting deadline of 2 p.m. June 23, DHHS added.
On Monday, June 22, Sauve answered questions about the pandemic posed by members of the Barron County Board of Supervisors Health and Human Services Committee.
She was asked what would happen if someone was diagnosed with COVID-19, but refuses to quarantine.
There is a quarantine guard available, Sauve replied.
"What if they say they can't afford to lose work time and money?" she was asked.
"We remind them there are financial aids available," Sauve replied.
For further information, visit the county website and the DHHS Facebook page.