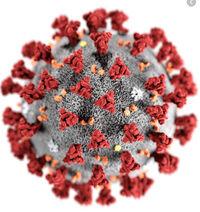 COVID-19 cases are on the rise in Barron County, and vaccine rollout remains slow.
In Madison, a COVID-19 relief bill passed the Senate on Tuesday 29-2 but had not cleared the Assembly at press time Tuesday night.
In the week ending Jan. 12, Barron County Public Health reported 193 new cases of the virus, up from 112 the week prior. Active cases stood at 214, up from 169 the week before. One new death was reported, putting the toll at 58.
Vaccinations continue among frontline health workers and public safety workers. Some emergency responders have received the vaccine, and many more local police and firefighters will be getting it, starting on Monday, Jan. 18.
Barron Police Chief Joe Vierkandt said his department's officers will be offered the vaccine through Cumberland Healthcare.
Long-term care facility staff and residents are expected to begin receiving the vaccine soon as well, though the exact timing is not yet known.
Police officers and non-paramedic firefighters are the first part of phase 1b, state officials said Monday. That's nearly 30,000 people.
According to the plan approved Tuesday by the vaccine distribution subcommittee of the State Disaster Medical Advisory Committee, which still must approve it, others in phase 1b would include
• K-12 and higher education instructors, preschool staff and child care workers, or about 160,000 people.
•People 70 and older not in nursing homes or assisted living facilities, or about 550,000 people.
•Corrections workers and inmates, or nearly 28,000 people. Prisoners infected with COVID-19 in the past 90 days may be asked to wait since they are assumed to have temporary immunity.
•People in group homes or who otherwise participate in state programs for people with disabilities and the frail elderly, which may be about 77,000 people. The category also includes people in state centers such as mental health institutes.
As of January 11, Wisconsin has administered 151,518 doses of the vaccine, at an average rate of 5,411 doses per day.
Phase 1c will likely include people 65 and older, adults with high-risk medical conditions and essential workers such as those in grocery stores, public transit and manufacturing.
The Senate bill ensures that Medicaid covers COVID-19 testing and vaccinations and guarantee that SeniorCare, the state's prescription drug discount program for senior citizens, would cover vaccinations. The bill also protects businesses, schools, governments and health care providers from COVID-19 liability claims.
Gov. Tony Evers called the bill a "good start" and said he would sign it if approved by the Assembly. But several provisions favored by Assembly Republicans were removed, including a prohibition on local health officials closing businesses for more than two weeks at a time; a requirement that school boards vote every two weeks on whether to continue all-virtual learning; a requirement that the governor submit plans for spending federal COVID-19 aid to the Legislature; and a requirement that Evers create a plan to reopen the state Capitol building.